Given the enormous growth of technology and the increasing number of mobile-device users, having an app for your business has become a necessity. A few years ago, only large brands afforded to build and maintain an app. But nowadays, almost every mid/small size business has gone mobile.
This means that the majority of your competitors have already built a mobile app. And if you're not among them, how are you going to prove to your customers that you're the one they should prefer. If you haven't built one yet, you must do it ASAP!
These are the best platforms available that top digital agencies use to provide their mobile app development services.
The Best Cross-Platforms for Mobile App Development
APPCELERATOR
Appcelerator is a mobile app platform that allows you build your application for iOs, Android, and Blackberry devices. It also supports HTML5 and hybrid apps. With a single JavaScript code, you can create an excellent, responsive mobile app for your business. Mobile developers use this tool to build apps with speed, fully native that ensure rich user experience.
The cross-platform app builder is extensible and open for all and gives you direct access to any native API with Hyperloop. Moreover, it also offers pre-integrated cloud services.
Some mobile applications made with Appcelerator are eBay, PayPal, and Mitsubishi Electric.
RHO-MOBILE
RhoMobile is a cross-platform tool for mobile app development which allows its users to build their app in the cloud. The platform is open and suitable for consumers and enterprise developers. It allows you write the code, generate, develop, and test the app. In addition, it offers system, framework and device access via API libraries. Rho allows you to build your mobile app using web technologies, such as CSS3, HTML5, JavaScript, and Ruby.
Image source
PHONE GAP
With PhoneGap app creator you can make hybrid applications built with HTML, CSS, and JavaScript. The open source framework allows you to build cross-platform apps for businesses that want to reach their audiences from multiple device types. Great features and support from the teams make PhoneGap a favorite for app developers.
Some mobile applications made with Phone Gap are Localeur, HealthTap – find doctors and free answers, Yoga+Travel.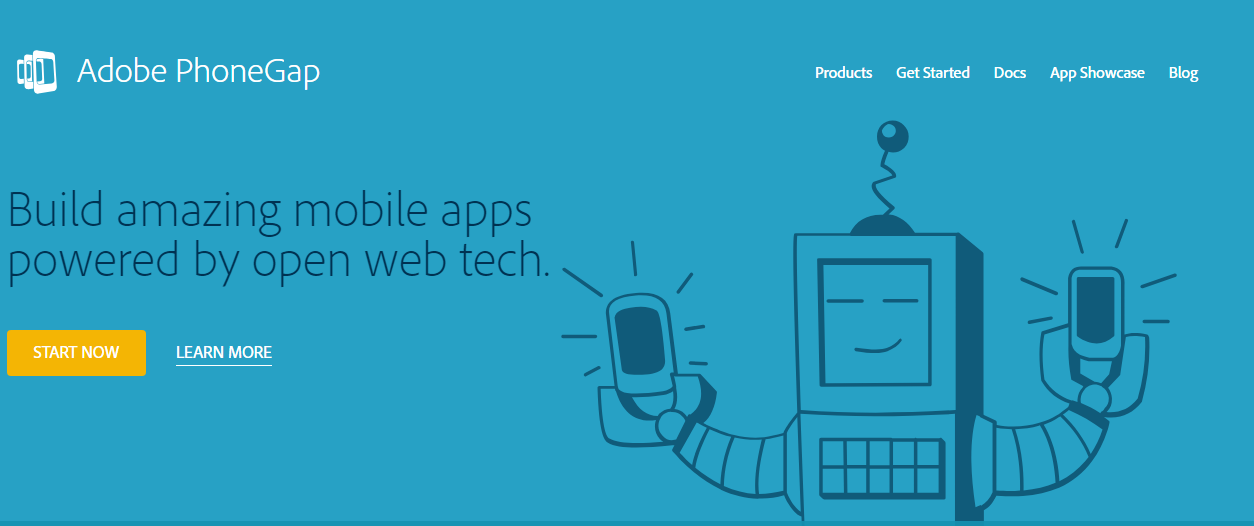 BIZNESS APPS
If you're a business owner and want to create beautiful mobile experiences for your users, Business Apps is one of the best tools that allow you to build cross-platform mobile apps. It offers you advanced features such as mobile orderings, loyalty programs, reviews and communication so that you can be closer to your customers, and many more. You also have the opportunity to manage your content easily and check progress with the analytics tool.
Some mobile applications made with Business Apps are Longate, Zeger Fitness, North Point University.
XMARINE
Xmarine is one of the best tools that allow developers build mobile apps for cross-platforms. It uses a single language, and you can share 90% of the code across the major platforms. With Xmarirne, you can build great native apps using existing skills and code knowledge for multiple-platforms including Android, iOS, and Windows.
What makes Xmarine a favorite for almost 1.4 million app developers, is the use of one technology stack for all platforms. It's time-saving and allows you to create amazing experiences using platform-specific user interface features.
Some games built with Xmarine are Cinemark, Draw A Stickman, Fresh Direct, Bastion.
The Best Mobile Game Development Tools
BUILDBOX
BuildBox allows you to create mobile game apps without programming or scripting. You can drag and drop your images and start building your app. You don't need skills or experience in building apps to make your own game. The tool was created in 2014 by Trey Smith. His aim was to allow artists or designers build their apps without the help of a professional programmer.
BuildBox is a cross-platform tool that provides many options to create unique 2D games and editing options. Moreover, the team offers email support for users as well as provides educative and informative manuals and tutorials.
Some games built with BuildBox are Time Light, Break The Line, Ninja Scrolle: The Awaking.
CORONA SDK
One of the best software kits that allow developers build mobile game apps using a single code for all the major platforms is Corona SDK. With Lua as a scripting language, it allows you to create games for free in multiple-platforms including iPhone and iPad, Android phones and tablets, Amazon Fire, Mac Desktop, Windows Desktop.
However, you can have access to animations, audio and music, advanced graphical filters, networking, system controls, native elements, data, and many more features if you want to create better-performing apps. In addition, it has an easy set-up. You can simply download the software and start your project with the help of Editor and Text plug-in that Corona offers. Changes are directly reflected and there is no need for internal toolsets maintenance or configuration of external SDKs.
Some games built with Corona SDK are Gunman Taco Truck, Zip Zap, Ava Airborne.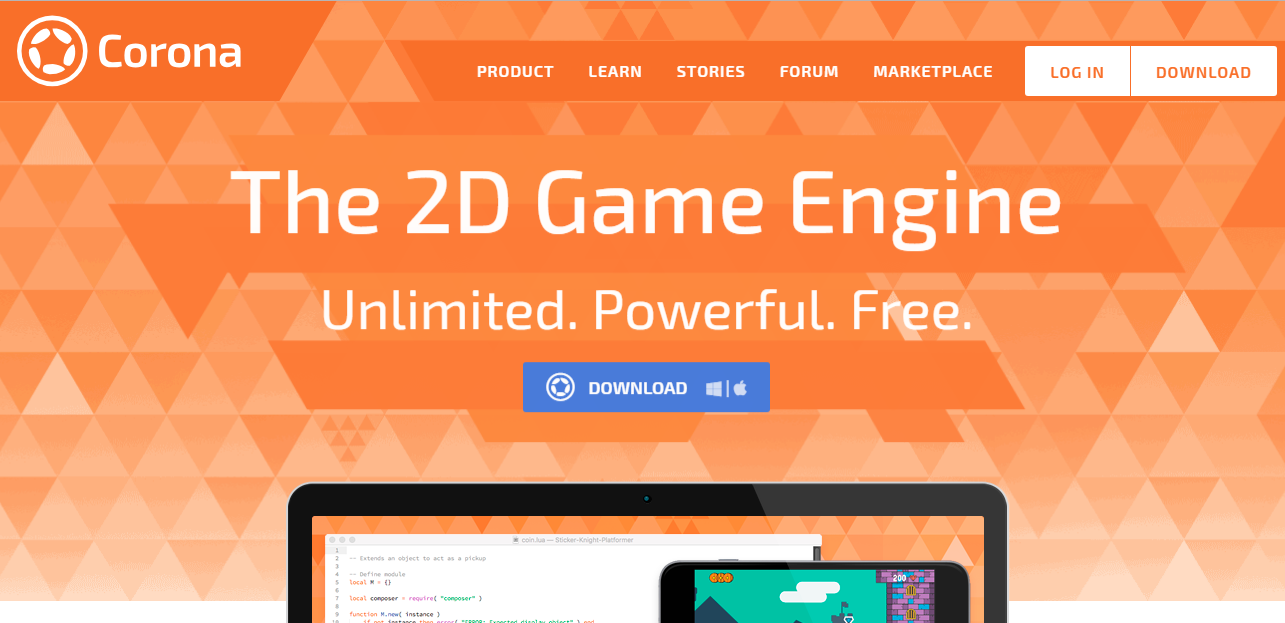 AMAZON LUMBERYARD
If you want a free and fully customizable software tool to build your mobile game app, Amazon Lumberyard is a great option for you. It's available for cross-platform app building and provides feature-rich development technology. Moreover, it provides a lot of free tools and integration of social-friendly tools such as Twitch that enables you to reach and engage users through ChatPlay, Mainstream, and JoinIn.
Some games built with Amazon Lumberyard Star Citizen, Everywhere, The DRG Initiative.