The internet is a giant hurricane of new content. Searching online can help you find every kind of information you might need. As a content writer, you want your content to be helpful for your readers so that your efforts are rewarded. You tried hard to address your topic properly, brainstormed, conducted a research, analyzed the facts and wrote an article to help your audience solve a problem, or simply enjoy some valuable information.
Remarkable content doesn't happen by luck. There are different techniques that experienced marketers use to make their content triumph online, and studies have proven the effectiveness of these techniques. So, here is what you need to.
Use Images
Videos, images or infographics are great tools to catch the reader's attention. According to a study conducted by Brain Rules – by John Medina, if you see a visual piece of information, you're 55% more likely to remember it than if you hear it. The use of visuals in your content can impressively help you maintain the audience on your website.
Use colorful and professional images, including featured images in your content. Let's assume you're searching for something online, an article about a certain topic, a product, or a service. If you click a result in Google or Yahoo, and the webpage has only plain text without a featured image, would you be interested in reading it? Would you find it reliable? That's very unlikely to happen.
People love proof, and supporting your content with images or infographics will make it look more credible, more appealing, and more digestible for the reader. Images must be relevant to the article topic, and content, and you should optimize them to ensure a better user experience. Large size images can take time to load and you need to grab reader's attention fast in order to retain it.
Use emotions to capture readers
People love communication, and when they read your content they want to feel like you're speaking to them directly. They want to read real stories, real experiences. Now that technology is galloping ahead, people are looking for human affinity. Make your content personal, so that they know real people produced it, not robots.
Successful bloggers use storytelling as their strongest weapon. They use them to capture readers' emotions. When reading a story, we tend to relate it to a personal experience and it immediately elicits empathy. This is how is made the connection between you and the reader.
"Sometimes reality is too complex. Stories give it form." – Jean Luc Godard
Storytelling is about resonating with your readers. For example, you have a business and want to describe your services in a way that conveys the value. Tell a real story, or make up a scenario that clarifies the qualities of your product or service. You need to convince people that your services will improve their lives and that they're the perfect solution for their problem. This way they'll share the emotions of the characters in the story and find your content more credible.
Use numbers
Numbers play an important role for content success. It's an old-school marketing strategy but it's still very effective. Take a look at these headlines in the covers of some of the best magazines in the world.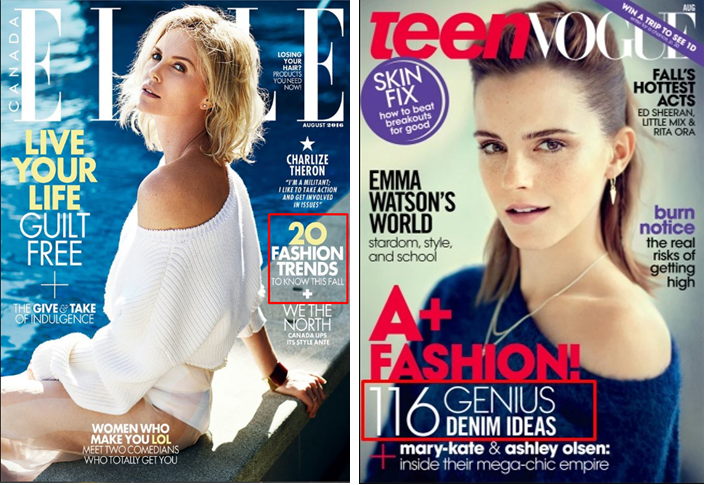 Or article headlines of the most authoritative websites.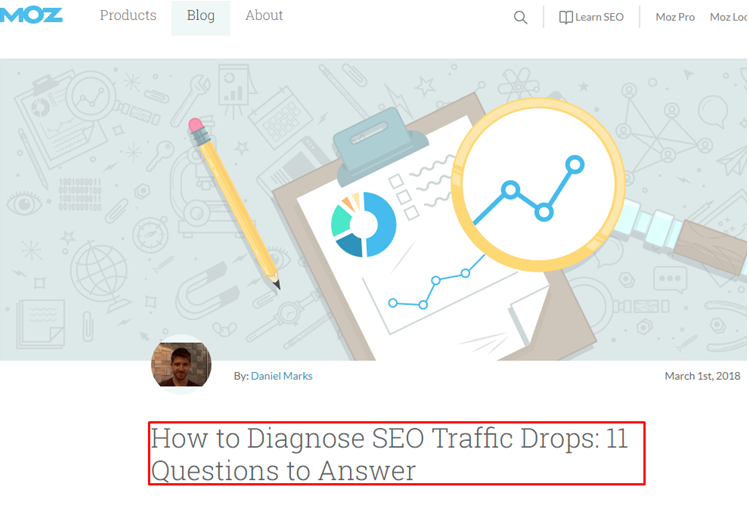 This screenshot was taken from MOZ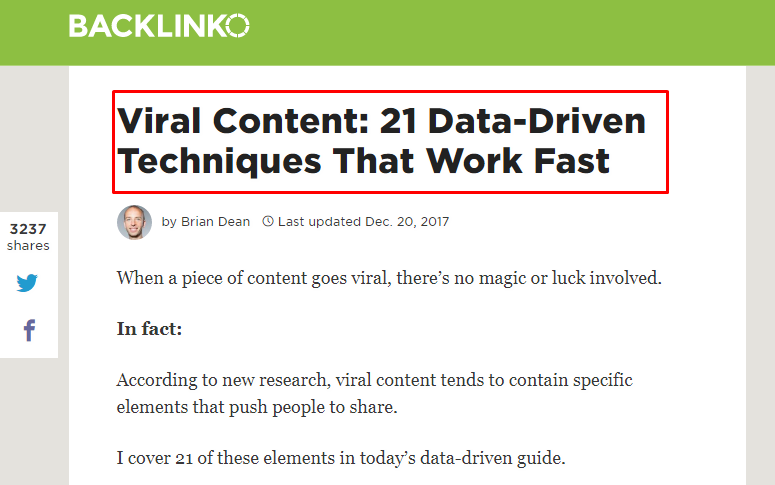 This screenshot was taken from BACKLINKO
Numbers are intriguing for the user. They add drama to the story and it's a great click-bait. They engage the reader and make information more digestible while validating the trustworthiness of the content.
Make the difference between these two headlines "Strategies to Increase Website Traffic" vs. "8 Strategies to Increase Website Traffic". The number "8" immediately makes the headline much more captivating. Moreover, odd numbers do better than even numbers. That's probably because odd numbers make it seem like you've not cut your information short to hit an even number, or that you've waffled on to hit a higher even number.
Optimize content for Search Engines
Your content marketing strategy will be worthless without an outstanding optimization for search engines. You need to optimize every piece of content on your website, visuals included, to help searchers easily find you through certain keywords. In the meanwhile, you will appear higher in Search Engine Result Pages (SERPs), generate more traffic and leads, and increase conversion rates.
Include appealing Calls-to-action
Of course, every piece of content has a particular purpose. Marketers use high-quality content to attract visitors, convert them into leads and ultimately close them into customers. A very important element that should be an inseparable part of the content is a Call-to-Action.
Calls-to-Action is crucial for both curated content and created content. They are a very powerful tool to promote your products, services, or a blog post. CTAs invite people to take further action on your website and share your content.
From a user perspective, CTAs add value to the content because it feels like there's more useful info to get from that website. This way you get to engage people with your content while bringing value to your business.
Every leading brand has a well-established internal Content Marketing Strategy. No matter what kind of marketing approach you use, high-quality and compelling content is part of every marketing form. It's the key to driving traffic and converting leads – it's the King!